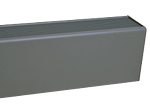 WLBT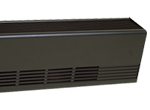 WLBF
Bottom intake, top discharge WLBT.
Front intake, top discharge WLBF.
12 gauge extruded aluminum front and back.
Snap fit 2 piece construction.
LB is 5″W x 7″H
1/4″ pencil proof discharge grill.
Aluminum fins for quick heat.
Custom selection of cabinet lengths from 2′ to 14′ lengths in 1/16″ increments.
Multiple heater sections on one common back.
Painted and anodized finishes.
Pedestals available(WLBT-PD, WLBF-PD).
Valve compartments are 6″ or 12″.
3/4″ and 1″ copper tubes available.
400 to 1000 BTUH ratings (per foot).
Accessories include: end caps, splice plates, wall trims, corners, blanks and valve compartments.