MODEL SBST/F
Model SBST/F Specifications:
SBST Bottom intake, top discharge
SBSTF front intake, top discharge
12 gauge extruded aluminum front and back
Snap fit 2 piece construction
SBST/F is 3″W x 6″H
Enclosed junction boxes
Full length thermal overload protection
1/4″ pencil proof discharge grill
Aluminum fins for cool surface temperatures
Standard 3/4″ EMT raceway
Thermostat single or double pole, RT. or LF. Hand mounting
Disconnect switch, double pole, RT. or LF. Hand mounting
Painted and anodized finishes
Pedestals available
Control sections are 6″ or 12″: power relays, contactors, PE relays, trans former relays, duplex receptacle, fused disconnects and thermostat
Accessories include: end caps, splice plates, wall trims, corners and blanks
Length to 12′
UL and CUL Listed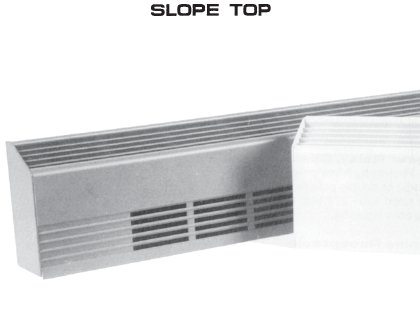 Suggested Engineering Specifications:
Design Draft Barriers shall be 6″ high and 3″ wide The front cover shall be one piece 12 gauge aluminum construction suitable for architectural, commercial and industrial use, with 1/4″ pencil proof slope top discharge.
The one piece cover shall be extruded aluminum for maximum strength and shall be available in lengths to 12′. The front cover shall snap fit to the 12 gauge back cover with no screw heads or assembly fasteners. The 12 gauge back cover shall be suitable for mullion to mullion mounting.
Standard painted finish shall be provided.
Heat sections from 2′ through 10′ shall be available. All heaters shall contain a 3/4″ EMT built-in raceway with factory wiring 1/2″ and 3/4″ knockouts shall be provided on the side and rear of the heater junction box to allow end to end wiring. All blank sections shall be fully enclosed to allow branch circuit wiring. All heaters shall contain a full length linear thermal overheat protector with automatic reset. Wattages shall be available from 100 to 250 WPF.
Heating elements shall consist of a steel sheath and mechanically bonded aluminum fins to assure efficient heat transfer. Element fin temperature shall not exceed 350 degrees Fahrenheit to ensure long element life. Element shall be center anchored and free floating at each end on nylon bushings.
Optional controls shall include:
Thermostats (single or double pole) and disconnect switches. Controls shall be tamper proof and adjustable with a blade screwdriver through the discharge grill.
Optional control sections include:
(See control features)
Accessories include:
(See accessories features)
All heaters are labeled by Underwriters' Laboratories, Inc.
Operational Features
Model SBST/F features a tubular heating element with fins bonded to the sheath.
To prevent overheating in cases where the air discharge may be blocked, full length thermal overload protection is provided. The vacuum charged capillary automatically restores operation when the cause for overheating is removed. To ensure quiet operation, the heating element is anchored and free floating at each end on nylon bushings.
Installation Features
Model SBST/F construction allows simple, snap-fit installation. The back plate which houses the heating element assembly is simply attached to the wall surface at the desired height and the front cover enclosure is then snapped into place.
Pedestal Features
Model SBST/F-PD shall have 2″ adjustable pedestals and the heater back will be painted to match the front cover. 1″ of adjustment is available on the cast pedestal.
Pedestal Quantities
2 on 1′, 2′, 3′, 4′ and 5′, 6′
3 on 7′, 8′, 9′ and 10′
UL and CUL Listed
Note: Specify SBST or SBSTF
Accessories
Due to the size of the cabinet, controls other than thermostats and disconnects must be mounted in a control section. See below.
Control Sections:
12″ Control Sections:
12″ long and can be attached to the enclosure. Contains 1, 2, or 3 items. right or left side mounting. (6″ CS for 1 or 2 items).
Transformer Relay:
Single pole, rated 19 amp 120 – 277 volt. Contact rated up to 277 volt (specify). Coils are 24 to 277 volt (specify).
Power Relay, Contactors, PE Relays, Mercury Relay:
Single or double pole (specify). 25 amp rated 120 – 277 volt. Low or line volts coils (specify).
Duplex Receptacle:
Mounted on front cover. 15 amp rated 120 volt.
Fused Disconnect:
Fuse block with 20 amp fuse and disconnect switch.
Thermostats:
Single or double pole rated 22 amp 120 – 277 volt adjustable through discharge grill.
Disconnect Switch:
Double pole rated 20 amp 120 – 277 volt.
ACCESSORIES
SB-WT Wall Trim (specify 2″ or 4″)
SB-SP Splice Plate
SB-EC End Cap (specify right or left)
SB-IC Inside Corner (specify miter degree)
SB-OC Outside Corner (specify miter degree)
SB-BS Blank Section (specify length 6″ – 12′)
SB Bottom Intake, Top Discharge\LBF Front Intake, Top Discharge
Length

Nominal

Watts/Ft.

Heat

Watts

Cat No.

Volts

2′

150

200

250

300

400

500

2150

2200

2250

3′

100

150

200

250

300

450

600

750

3100

3150

3200

3250

4′

100

150

200

250

400

600

800

1000

4100

4150

4200

4250

5′

100

150

200

250

500

750

1000

1250

5100

5150

5200

5250

6′

100

150

200

250

600

900

1200

1500

6100

6150

6200

6250

7′

100

150

200

250

700

1050

1400

1750

7100

7150

7200

7250

8′

100

150

200

250

800

1200

1600

2000

8100

8150

8200

8250

9′

100

150

200

250

900

1350

1800

2250

9100

9150

9200

9250

10′

100

150

200

250

1000

1500

2000

2500

10100

10150

10200

10250
Other Wattages Available
120 Volt 100 or 250 W.P.F. only